Could Your Site Benefit by Advertising Here?
The image below is part of a screenshot showing the number of page views this page had on July 27. As you can see, the number of page views exceeded 6500 in just one day. If you'd like to see a full-size screenshot, click the thumbnail and the whole image will open in a new window.


(Click For The Full-Sized Image)
Below is the referrer report from our site tracking software which shows that we've gotten over 31,000 hits from the major search engines, and over 96,000 from the web -- in just the 106 days the software has been tracking our site (an average of 1200 people a day).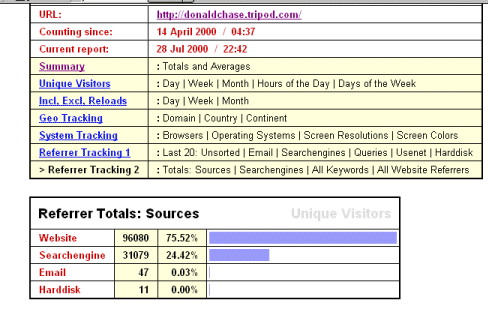 (Click for the Full-Sized Image)
Some statistics for this site are (per my tracking software see for yourself at http://u.extreme-dm.com/sum?login=dctripod):
| | |
| --- | --- |
| | 94% is United States Traffic |
| | 95% Utilize MS Windows as OS (Windows 3.1, Windows 95, 98, & NT) |
| | 76% Utilize Internet Explorer / 16% Netscape / 8% Other |
| | 96,945 average page views past three months (1,163,340 annualized page views) |
| | 3,453 average page views past 19 days (1,260,345 annualized page views) |
| | 2,005 unique visitors per day the past 18 days (731,926 annualized unique visitors) |
Based on the emails I get (I have the email forwarded to a seldom used Hotmail account which at last count had accumulated 1400 messages in just 4 months - I've read through about a third), the demographics of my site are primarily young (teen and young adult) and upscale (as per normal Internet trends) - which is great for Internet marketers. Keep in mind, that teen spending in 1999 was over $153 Billion (per Teen Research Unlimited).
So, why am I doing this? Well, the reason is simple. I'm too smart to keep wasting my time on the silly links to the left (I've made a grand total of $30 from Amazon.com!!), and I don't trust the click-through counts from adClix (even though as a company, they've been good to me) where my totals have fluctuated from month-to-month without logical reason. I know that I have relatively significant traffic, a profitable demographic, and a wealth of content. Now I want more bang for my buck.
How Does Advertising Here Work?
Simple. I am looking for month-to-month sponsorship for this site. Instead of me trying to nickel-and-dime for clicks I am looking for an integrated relationship - preferably with a complimentary site / product. I provide access to my traffic for banner advertising, mailing list sign ups, etc., and I get paid cash in advance.
I will replace every banner advertisement on this site with one for your site or service. I'll rent the space for a flat monthly fee. No CPM calculations, no click-through analysis, not nonsense. My visitors will see your message, sign up for your mailing lists, buy your products, etc., and I get a monthly check in advance. No strings, no contracts, no BS.
The rates are as follows:
Preferred Advertisement Placement - $200 / mo.
Your advertising banners are placed on top of every page and / or on the left-hand navigation (the bottom banner will still remain - sponsored by adClix).

Exclusive Advertisement Placement - $300 / mo.
All banner advertising throughout the site would be for your company. All other advertising is removed.
Now What?
If you've read this far and to find out more or if you're ready to sign up, email me now at donaldchase@yahoo.com.